I know this should be my blog but I couldn't resist sharing this:
"Dad" Defines Fatherhood
Ephesians 4:14-19 (NKJV)
14 For this reason I bow my knees to the Father of our Lord Jesus Christ, 15 from whom the whole family in heaven and earth is named, 16 that He would grant you, according to the riches of His glory, to be strengthened with might through His Spirit in the inner man, 17 that Christ may dwell in your hearts through faith; that you, being rooted and grounded in love, 18 may be able to comprehend with all the saints what is the width and length and depth and height— 19 to know the love of Christ which passes knowledge; that you may be filled with all the fullness of God.
"Dad" Defines Fatherhood
The Senior Single Father-Headed Home of
Sidney McCray I
(1891-1989)
Personal Reflections by a Satisfied Son
Rev. Dr. Walter A. McCray
© 2009 All Rights Reserved
What does it mean to be "father"?
My personal understanding of "father" was shaped by my upbringing, and home life of my family. I was raised in a single parent home. My single parent was my father. My mother died when I was two, and left my father with three children: a sister seven, a brother four, and me.
So my single parent home was a father-headed home—a senior father-headed home. By God's grace I was born—I almost didn't make it!—when my father was 61 years old! My male procreator was named Sidney McCray, Sr.; we called him "Dad." He lived to the well-seasoned, ripe old, good age of 89.
Now as Dad's three budding children grew up with our senior father, we were dependently looking to him for everything—and were expecting that he could do it, and be it. Not to be disappointed, over the years of our earliest upbringing, we saw Dad "do his thing" in seemingly every possible role and way. Let me name a few.
"Dad," our father, was …..
• cook
• dish washer
• clothes washer
• ironer
• shoe-shiner
• bed-maker
• floor-mopper
• garden-keeper
• shopper, for food and clothes, and things
• allowance giver, bookkeeper, budget balancer
• health-care provider, band-aid fixer, escort to doctor
• healer
• prayer-warrior
• hymn-singer
• Bible reader and explainer
• Church-taker and -goer, and deacon-leader
• spiritual counselor; community counselor
• humor-filled sage
• disciplinarian (or whuper)
• instructor, and school taker
• historian of the Mississippi south, and the Chicago north
• family protector, and WWI veteran, overseas traveler
• friend and confidant
• big-hearted benevolence giver, to the afflicted and needy
• homeowner
• boarder for shelter-seeking persons, and families
• Painter, fixer, trouble-shooter, repairer
• community stabilizer
• respected elder
• peacemaker, yes peacemaker, in the family and where ever
• word-keeper, and networker
• Main Post Office worker
• construction site - watchman
• 2-times retiree
• Spiritual warrior
• God-lover
• Heaven-bound sinner
• Beloved Father, and, if you please, "Mother" too.
This great list of personal, parental, and social virtues could go on. Dad was quite an old Black man—a righteous, compassionate, child-rearing, African-descended father.
Our father left his children a treasurable legacy of fulfilling images, so many well-performed roles. "Dad" did everything—things that father should do, and things that mother do too. When describing "father," and defining its contemporary role, it makes you think. He was great.
My reflection on Dad's holistic living gives me insight. I see how God used him to help wire me and shape my experience. Dad demonstrated a kind of all-covering life of love for us his young children. Why come to think of it, my father actually did some of everything! No wonder these days I find my own hands all tied-up in doing (and trying to do) a lot of everything! Dad's spirit is in me; his mark is on me. I really can't help myself. As they say, "I came by it honest."
In Dad's struggle to raise well his three young children, he often found himself struggling alone. I'm sure, though, that the witness-spirit of Magdalene our mother—the young heaven-gone wife of Dad's fervent love—often encouraged him to press on, and stay faithful to his child-rearing responsibility. Though alone, Dad was yet determined to make it. He fought for His children's survival, and to improve the overall quality of life for our family—even if at times our living became better only a little bit. Certainly, through the years other supportive persons pitched in. Some were family; others were from his close circle of friends. Now and then they all gave assistance, by doing their good part for Sidney and his young children.
Nonetheless, most of the time Dad shouldered the family burdens by himself, with the help of the Lord. Moreover, even despite his immediate struggles, Dad opened his heart to the poor and afflicted. He did all the good he could do to make provisions for others, and to make his people a better people, and a God-fearing people. One of his favorite Scripture verses was Psalm 41:1: "Blessed is he that considereth the poor: the LORD will deliver him in time of trouble."
Dad would sing, even amidst his trying fatherly tasks. Here is a line from one of his hymns:
A charge to keep I have, a God to glorify;
A never dying soul to save, and fit it for the sky.
To serve this present age, my calling to fulfill;
And may it all my powers engage to do my Master's will. (Charles Wesley)
Another of Dad's very old-metered hymn's speaks to the divine cleansing of his spirit:
Lord I would come to thee, A sinner all-defiled,
O take the stain of guilt away, and own me as Thy child.
I cannot live in sin and feel my Savior's love,
Thy blood can make my spirit clean, and write my name above.
What does "father" mean to us…to me? The model of a well-aged, single male parent who lived the life of a Christ-centered witness has defined for me the lion's share of fatherhood. I thank the Lord for "Dad." I especially thank the Lord for Dad's godly guidance and spiritual direction. I'm so grateful that he made eternal provisions for my delicate soul by pointing me toward righteousness and heaven—toward everlasting salvation through the blood of Jesus Christ the Lord, the Son of God.
It was this father, our Dad, who taught all his children to pray:
"Our father, which art in heaven, hallowed be thy name…."
# # #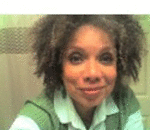 Posted By: Yvette Moyo
Monday, June 8th 2009 at 7:05PM
You can also
click here to view all posts by this author...