Society has changed. Where we previosly had steel mills, auto plants and other industries in this country we are left with a dwindling number of white collar jobs and an unskilled work-force. When manhood was directly associated to earnings back then, today we are not discussing that in many households the greatest income is being delivered by women. What is a man to do. What is fatherhood when many of us grew up with a distant dad who just needed quite time after work or had dads who came in with a check, then checked out on many of the parenting? Now my dad did it all but not all of the time. When mom cooked it was a job and when dad was laid off and cooked, it was showtime!
So what is fatherhood? What's missing? First, there's the challange of holding down a job in a crazy job market for most of us. Then, it's the head of household conversation that could cause a man with traditional or impractical thinking to check out, move out and cop out.
Where is the convesation about the divorce rate? If American marriages are not lasting and as many as 70% of the babies being born to Black women are to "single" moms. Then, where is the conversation about new family configurations? About bonus families when one or both of the parents remarry? I am not hearing it but it needs to be a topic of loving conversation.
Today on FB a woman indicated that the father of her child seemed to offer no support but had plenty of negative conversation about her. Well, do women choose to have children? Do women select with whom they want to parent for the rest of their lives? I have my perspective and I want to hear yours.
More on that later. In the meantime, the White House has expanded the conversation on the subject of fatherhood and is working to expend programs to support responsible and active fatherhood. Check it out and let's talk soon.
http://www.facebook.com/pages/We-support-the-White-House-Fatherhood-InitiativeR/124551377592137?ref=ts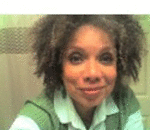 Posted By: Yvette Moyo
Saturday, August 28th 2010 at 5:26PM
You can also
click here to view all posts by this author...